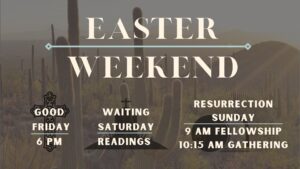 Church Family,
What a great time together this past Sunday.  It was a joy to have Erik Naylor from Life Among the Nations share God's Word with us and update us on what the Lord is doing at ASU amongst international students.  Check out this link for more information and get a glimpse into their work.  Erik walked us through Joseph testing his brothers.  What we found were hearts that were showing repentance from the brothers and mercy that Joseph extended.  We will continue looking at Joseph and his brothers' interactions this coming week.  Take some time and read Genesis 44 this week.
Easter Weekend
This is just a friendly reminder of our Easter Weekend schedule:
Good Friday (April 15th), 6 pm
Waiting Saturday (April 16th), readings at home
Resurrection Sunday (April 17th), 9 am Fellowship, and 10:15 am Gathering.
Members Meeting
We announced this past Sunday our next Members Meeting.  It will be held on April 24th at 4 pm.  We will discuss the budget, update the Elder search, and, most importantly, hear testimonies to receive new members.  Mark your calendars and plan on being there.
Grace and Peace,
Pastor Bryan