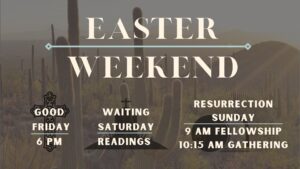 Church Family,
What a wonderful time together this past Sunday as we prayed, sang, read Scripture, and heard God's Word preached.  Genesis fills in so many details that the entire bible unpacks with its 66 books.  It has been a joy to study the history of God moving providentially within the world to bring about His desired ends.  I want to personally thank you all for your desire and encouragement to put Scripture before us each week, eager to understand its truth.  It's a joy to pastor you all and preach God's Word each week.
Easter Weekend
Easter is just three weeks away!  We want to make sure you are aware and planning on participating in all we will do for Easter weekend.  So grab your calendars and mark these dates and times:
Good Friday (April 15) at 6 pm we will gather to reflect on our crucified Lord
Waiting Saturday (April 16) we will provide readings to reflect on uncertainty and trust
Resurrection Sunday (April 17) at 9 am we will provide refreshments for fellowship and then have our normal scheduled gathering at 10:15 am to celebrate our risen Lord!
Grace and Peace,
Pastor Bryan